Or should I say, comprehend.
Since Rogue One first came out, and more recently with the digital release last Friday, I've seen discussions online were people are completely or partially mishearing/misunderstanding dialogue from the movie.
Specifically, this exchange:
Mon Mothma: Despite what the others say, war is inevitable.
Bail Organa: Yes, I agree.  I must return to Alderaan to inform my people that there will be no peace.
Mon Mothma: We will need every advantage.  Your friend, the Jedi.
Bail Organa: He served me well during the Clone Wars and has lived in hiding since the Emperor's purge.  Yes, I will send for him.
Mon Mothma: You'll need someone you can trust.
Bail Organa: I would trust her with my life.
People think that the Jedi who they're referring to either Ezra Bridger or Ahsoka Tano.
Huh?
Ezra knows Bail, but he did not serve in the Clone Wars.  I don't even think he was born until long after Revenge of the Sith.
As for Ahsoka, people think they're referring to her because of that last line, "I would trust her with my life,"  which is actually referring to Leia.  Also,"he served me well" couldn't refer to Ahsoka.
Putting all this together, plus the fact that this movie ends about 5 minutes before the beginning of the first Star Wars, how can you not know that they're talking about Obi-Wan Kenobi?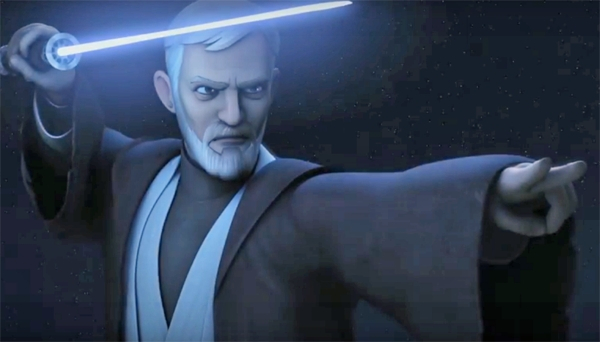 I'm guessing that we'll see the fate of Ezra, Ahsoka and even Kanan, in the next season of Star Wars Rebels.