B-17 Flying Fortress "Facebook"
Crew (taken from my FB friends list about a year ago):
Pilot: Captain Chris S.
Co-Pilot: Lieut. Bob F.
Navigator: Lieut. Kalu E.
Bombadier: Lieut. Lando G.
Engineer: Mst. Sgt. Jen V.
Radio Operator: Sgt. Eleathia L.
Ball Turret: Sgt. Timothy N.
Port Waist Gunner: Sgt. Robert S.
Starboard Waist Gunner: Sgt. Maria S.
Tail Gunner: Sgt. Alicia P.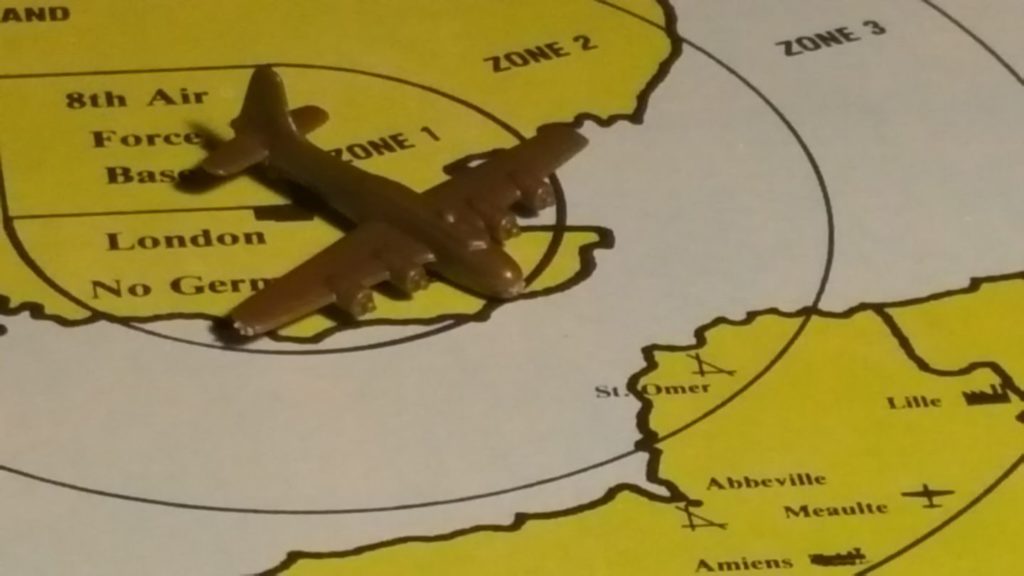 2 missions completed.
Mission 1: Rail yard at Amiens – Bomb Run percentage: 5% – no damage to bomber, no enemy planes shot down, no crew casualties.  This mission was flown about a year ago, I just now logged the data to the composite mission record sheet.
Mission 2: Airfield at Abbeville – Bomb Run: 40% – hit on starboard waist gunner's heat system, tail gunner shot down ME 110, no crew casualties.
Of course, these early missions are usually a cakewalk.
Can the Facebook get to 25 missions?  We'll see.  The most missions I've completed with the same bomber (Thunder Head, circa 1989?) was 17, when it was rendered irreparable after that 17th mission.
The No Comment was destroyed on her second mission, by a shell or flak hit to the bomb bay, killing the crew.
The Golden Gate suffered a fuel tank fire on her 7th mission, the crew bailed and all but one were either captured or killed.  The engineer served aboard the Thunder Head until he was killed on the bomber's 10th mission.
The Gang Buster completed 4 (of 30 total) missions before I shelved the game indefinitely.
More to come soon.