My interest in the B-17 Flying Fortress was reawakened when I recently started playing B-17: Queen of the Skies, though I've just made a quick check of games that I've ordered, and I have THREE other B-17/8th Air Force games coming in sometime in the near future.
Even though Memphis Belle is the movie that really made this bomber popular,  I remember reading about the 8th Air Force long before that, even before I played my first game of B-17: QotS.
And then there was one of Harrison Ford's lesser known films, Hanover Street.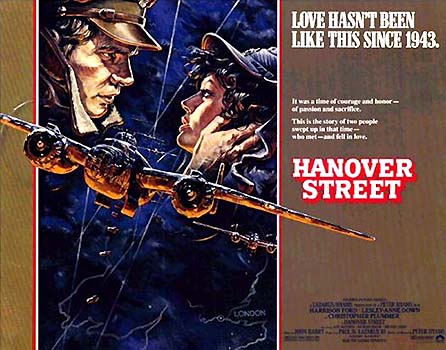 Harrison Ford stars as an American WWII pilot stationed in England who falls in love with a married British nurse (Lesley-Anne Down). When his plane is shot down behind enemy lines, he discovers that the secret agent he must protect is her husband.
I think I saw this on on cable, once, in 1979-80(?), and then it was on again recently at a Chinese restaurant near work, of all places.  Ford's character flew a B-25 Mitchell instead of a B-17 Flying Fortress.  The newer games appear to have the B-26 Marauder available, which is historically more accurate from what I've read.
Anyways, I'm looking forward to these games, as each has a different take on game play.  Queen of the Skies put you in command of a single bomber, while a couple of the new ones have you commanding the entire squadron on the bombing run.
And I recently bought a new book on the subject: