October 20th, 1967: premiere date of Star Trek episode 'The Doomsday Machine'.
I've said elsewhere that this is one of my all-time favorite episodes, and one that I can watch over and over and over.

I named my first Star Trek Role Playing Game character Mackenzie Decker, and made him the nephew of Commodore Matt Decker.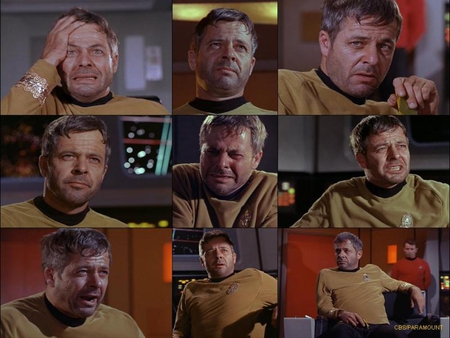 So much great quotable dialogue came from this episode.
They say there's no devil, Jim, but there is, right out of Hell. I saw it!
Matt, where's your crew?
On the third planet.
There IS no third planet!
Don't you think I know that? There was, but not anymore! They called me; they BEGGED me for help, four hundred of them! I couldn't… I-I couldn't…
Bones, you ever hear of a doomsday machine?No, I'm a doctor, not a mechanic.
If I only had some phasers.
Phasers – you've got 'em. I have one bank recharged.
Scotty, you just earned your pay for the week.
Vulcans never bluff.
A commander is responsible for the lives of his crew, and for their deaths. Well… I should have died with mine.
We're stronger with you than without you!
Gentlemen, beam me aboard.
One of the highlights of that Star Trek concert that I attended last year was a live performance of the music (entitled "Kirk Does It Again") from the final act of the episode.
You've seen the episode enough times, you can recite the dialogue as the music plays.
Most if not all of this music was repurposed for the episode 'The Ultimate Computer'.
I'll probably watch this one sometime later today.